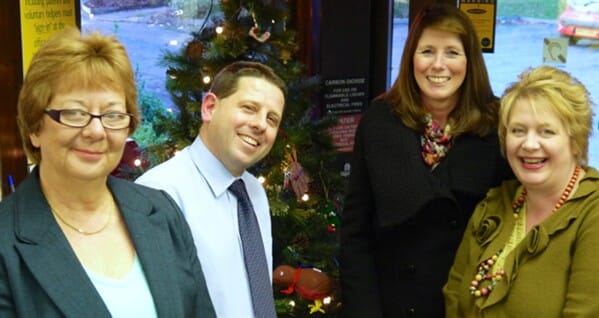 IT'S beginning to feel a lot like Christmas at Bromford Homes' Oakdale development of new homes in Lydney, Gloucestershire as shared ownership sales colleagues bring a bit of the festive spirit to customers, and children at one of the local primary schools.
On Friday (November 30) the Bromford Homes team went to Primrose Hill C of E Primary School laden with gift-wrapped art materials for the winners in a competition to design and make the best decorations for a Christmas tree gifted by Bromford.
They stayed while Head Geof Roser and Foundation Governor Aileen Powell judged the pupils' sparkling efforts at the school's Christmas bazaar and applauded the winners as they received their six arty prizes while the editor of the local Review newspaper took photographs.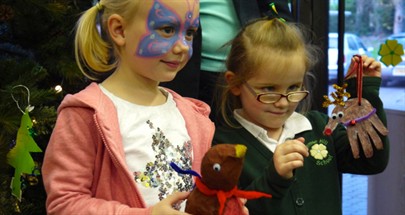 Earlier in the week, Oakdale Sales Consultant Jenny Stratford spread more Christmas cheer by awarding a festive hamper to Paula Bessant, winner of a special prize draw for prospective 
shared ownership
 buyers who visited a recent open day at this landmark development in the Forest of Dean market town.
Jenny thoroughly enjoyed her week of gift giving, which included delivering the tree to School Crescent, Lydney, so that Primrose Hill staff could put it up in the reception area and hang it with the children's sparkly efforts.
"We've got quite a few young families living here at Oakdale and with Christmas so close we wanted to do something that would bring a bit of festive cheer for children at one of the nearest schools," said Jenny, who was supported at the bazaar by Bromford Homes Head of Sales (South) Trish Foster and Jane Price, of Michael Tuck
New Homes in Gloucester
.
"We're delighted that the headteacher decided to accept our offer of a Christmas tree for the school and some art materials as prizes for the best home-made decorations. It was lovely to be a part of such a lovely festive event and to see how the children had used their imaginations and artistic talents to create some really amazing decorations.
"We wish all the children and their families, the staff and governors a really Merry Christmas."
Headteacher Geof Roser thanked Bromford Homes for donating the tree and prizes, saying: "I think there were some really super entries. The children used a wide variety of different media and materials as well as plenty of imagination. The Christmas bazaar always kicks off our festive celebrations and we are pleased that Bromford Homes supported us in this way."
There were six prizes for the children, with Chloe first, Abi second and Katie third in the younger age group and Anoushka first, Milly second and Lucas third in the older age group.
Oakdale is a family-friendly development offering first-time buyers a choice of two and three-bedroom homes for as little as £31,750* through HomeBuy shared ownership.
Up to £2,000 towards deposit
Bromford Homes is now offering to help qualifying buyers with either a contribution towards their deposit that's equal to five per cent of the share that they buy − up to a maximum of £2,000** − or £1,000 assistance towards costs.
"We do everything we can to make sure that the deal is truly affordable for buyers − whether they are buying a 25 per cent share or anything up to the 75 per cent maximum," says Trish. "At the end of the day, buyers get a traditionally-built, energy-efficient home built for ease of maintenance at a really affordable price."
To arrange a viewing
Bromford's Oakdale showhome is open from Thursday to Monday between 10am and 5pm. Call 01594 845369 to find out more.
* £31,750 buys a 25 per cent of the total £127,000 asking price for a two-bed home and the deposit would be £1,588 based on a 95 per cent mortgage. Buyers pay a monthly fee − lower than the equivalent open market rent − on the remaining share.
** Our deposit offer at Oakdale means that someone buying a 25 per cent share worth £31,750 and borrowing 90 per cent would receive a Bromford Homes contribution of £1,588, or half their deposit. The maximum contribution is £2,000.
(correct at time of publication)