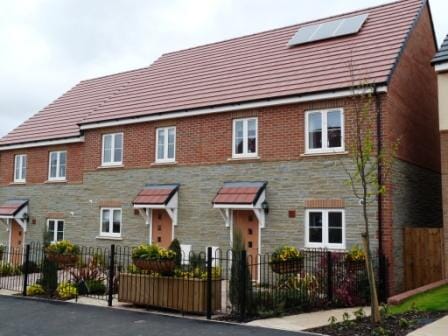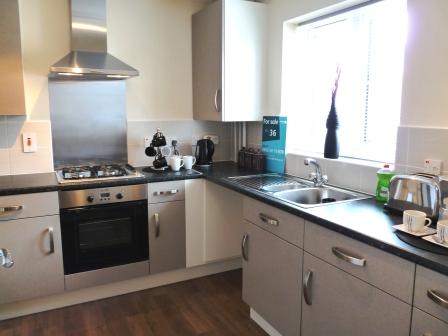 Bromford Homes have just opened their new showhome at Oakdale in Lydney, Gloucestershire. Yes it's another nicely decorated, smartly furnished, well built showhome which is well worth a visit. But builders are opening showhomes all the time, so what's the big deal? Well, what sets Bromford Homes' showhome apart is not the actual house itself – it's a generously specified 3 bedroom semi-detached house as good as any you'll find in the area – its the purchasing scheme that Bromford Homes bring to Oakdale that's the big deal.
Located close to the Forest of Dean and on the banks of the River Severn, the development is part of an ambitious project to bring a whole range of new homes to the small Gloucestershire town of Lydney. But whilst the area undoubtedly needs more new homes, what it really needs in the current economic climate are more affordable new homes.  This is where Bromford Homes, who are one of the country's leading suppliers of affordable housing can make a real difference with the shared ownership scheme.
What new homes are available?
Purchasers have a choice of 2 bedroom and 3 bedroom homes – just like the new showhome.  The full market price for a two bedroom home starts from £130,000 going up to  £159,000 for a larger three bedroom home, making them already competitively priced.  But by purchasing through Bromford Homes' shared ownership scheme, buyers can pay for as little as 25% of the equity now, making a 2 bedroom home cost from just £32,500, bringing it within reach of many who simply cannot afford to buy a new home in the traditional way.  There is a monthly charge to pay on the equity which you haven't bought, but together with your monthly mortgage payments on your share, you will still come out ahead at the end of each month.
Once you have purchased your share, which can range from 25% up to 75% based on what you can afford, you will enjoy all the benefits of owning your own home.  You can normally purchase more of the equity at a later date.  For purchasers who haven't yet saved up their 5% deposit – which on a 25% share of a two bedroom home will be around £1,625, Bromford Homes offer a Save and Build scheme, giving you time to save your deposit while they are building your new home.
So if you think its time you got on the housing ladder call in and visit the new showhome and let Bromford Homes show you how.
Viewing Details
Oakdale, Par Four Lane, off the A48 Lydney Bypass, Lydney GL15 5GX
Showhome open between 10am & 5pm Thursday to Monday
Please call Michael Tuck New Homes in Gloucester on 01452 726443 or Michael Tuck Estate Agents in Gloucester on 01452 311220.
(correct at time of publication)